February is For Fertilizing!!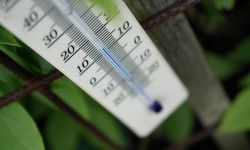 Spring comes early to the Coachella Valley making the month of February one of our best growing months of the year. Your garden is coming out of its "winter sleep". Warm temperatures mixed with a good dose of the right kind of fertilizer will provide the garden with an instant WOW FACTOR. Don't turn the water up!Plant material continues to thrive on water just two or three times a week. Remember to have the time set correctly for either drip irrigation or sprinklers. Say goodbye to frost damage. While it is possible to get a frost in the month of February, the threat of severe cold is typically over. It's a great time to get the pruners out and clear away damaged foliage.Avoid heavy pruning – – – it is all about appearances now; shape trees and shrubs just for looks. Once trimming is out of the way, it is time to fertilize – – – everything!
Begin monthly feeding in February.
Moller's Garden Center suggests Dr Earth products for just about everything in the garden. This is an organic, long-lasting product with specialized formulas specific to roses, hibiscus, bedding plants, camellias, fruit trees, palms, vegetables and new plantings. After all, not all plants are alike. Come have a chat with one of the Sales Associates here at Moller's to determine the best formula for your garden. Turf Royale will keep your lawn looking golf course ready. Queen palms will benefit from mineral spikes formulated for desert soil…………..come on down. Don't forget mulch. It is a great aid for holding in moisture and makes the flower beds look fresh and clean.
Blueberries, peaches and apples, OH MY!
It's true; these fruits and many others will grow in the Desert. We enjoyed a bowl of fresh, homegrown blueberries at our Mother's Day brunch last year.Many stone fruits flourish in our Desert weather. They offer double bounty: beautiful blooming trees in the spring and plentiful apples, peaches and plums in early summer.
Roses & Powdery Mildew
Long, cool mornings, warm days and a little humidity make perfect conditions for powdery mildew. This is a rose problem that requires weekly attention during the spring. Use GREENLIGHT Rose Defense or ROSE RX by Bonide. Both products contain the 3 necessary ingredients for perfect roses during spring: fungicide, miticide and insecticide. Be sure to exercise the five leaf rule when you cut roses – – go down the stem and cut the rose just above the first leaf stem containing five leaves. This promotes a better growth pattern for the rose bush.
Herbs are back, along with the second crop of winter vegetables.
Basil abounds!! If your tomatoes wintered over, you are one of the lucky ones. If they did not, we have over 10 different varieties to offer you. Heirloom tomatoes are not just a fad; they taste great. Try the Green Zebra or Mortgage Lifter varieties.
Spring brings out the birds.
Those of you who visit Moller's on a regular basis are quite familiar with Finch Socks. These are seed socks that can be hung almost anywhere in the garden to attract some of the Desert's more colorful birds. Quail can be enticed with Nyjer Wild Delight. Hummingbirds are everywhere this year. Have you ever noticed how territorial they can be? They are nesting so hummingbird turf wars abound. Look for hummingbird nests tucked in cactus, ocotillo or any protected tree limb that comes to a Y. These birds require a lot of energy, they eat a lot. You will find numerous varieties of hummingbird feeders at Moller's.
Happy Valentine's Day!!
February 14th is coming fast. We offer roses of all colors as well as mixed spring arrangements, arrangements of one color, orchids, blooming plants and Valentine gifts sure to make your Valentine smile. Phone the Flower Shop at Moller's for all your Valentine needs. (760) 346-9415.