4 Pet-Friendly Houseplants You'll Love! 
We love houseplants, and unfortunately our pets might as well! To keep our furry friends safe, we are going to list a few pet-friendly houseplants so our fur-babies are always safe and not nibbling on plants that may harm them.
Be Aware of the Houseplants You Bring Home
Unfortunately, some houseplants are toxic or poisonous to our furry friends and ingesting them could cause serious harm. This is why it's important to do thorough research on the new plants we bring home. It also wouldn't hurt to check on current houseplants in your collection either! Fortunately, a lot of houseplants are non-toxic, so here are four pet-friendly houseplants we're sure you and your pets will love!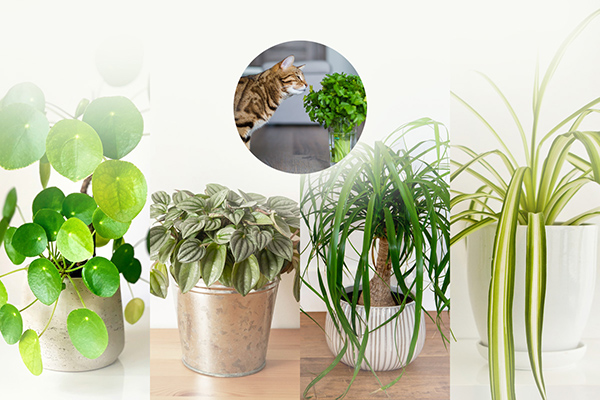 4 Pet-Safe Houseplants You'll Love…
Chinese Money Plant
First up on our list is the Chinese Money Plant, also known as the Pancake Plant. This popular pet-friendly houseplant has circular leaves with long stems. This plant is very unique looking but is still an attractive plant. It will add a bit of fun to any collection and is very easy to care for!
Peperomia
Back on our list from last month's post is the Peperomia plant! Not only is this bushy plant low maintenance and easy to care for but is also pet safe! These plants grow slowly but offer stunning foliage that is eye-catching! This houseplant has a wide variety of shapes and colors and spices up any plant collection.
Ponytail Palm
By first glance you wouldn't guess that this plant is a succulent plant, but it is! This long-lived houseplant loves being in full shade and can thrive when neglected. Since it is part of the succulent family, it does not need to be watered often! If you're looking for a tree-like plant, the Ponytail Palm is the one for you.
Spider Plant
Last but not least on our list, is the Spider Plant! This flowering plant has stunning green leaves with a white stripe running down the middle. It's a bushier plant that looks best in hanging baskets and is relatively easy to grow because of its resilience!
In Conclusion…
So here are the 4 pet-friendly houseplants to ensure your pets are safe when left alone with them. These plants are beautiful, easy to care for, and will be a lovely addition to your collection!
That brings us to the end of this post, we hope you found this helpful. Hopefully from reading this you can keep your plants beautiful and healthy! Best of luck to you.